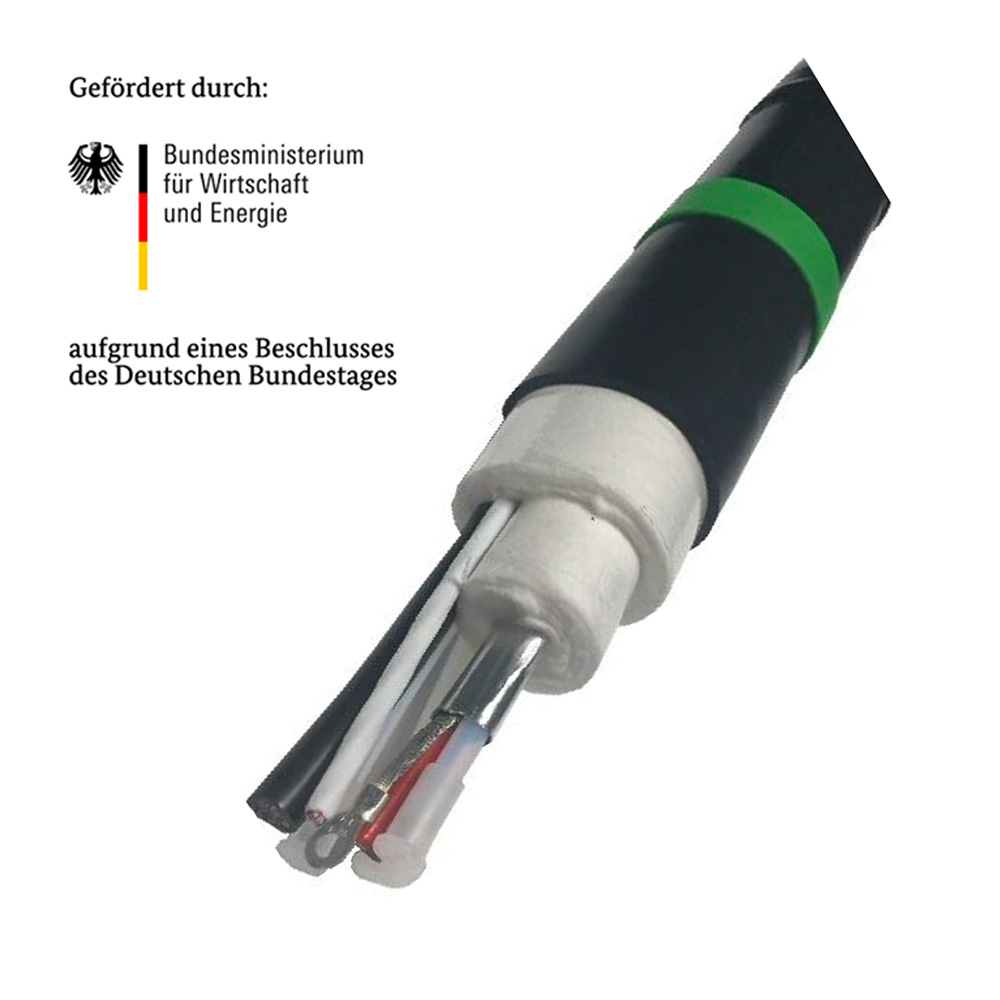 Properties
Internal tube made of PTFE, PFA, stainless steel or special alloy

Internal PTFE tube DN10/12 for pre-heated back purge gas and DN4/6 for pre-heated test gas

Looped through lines for gas sampling probe operation and back purge control from analyser house without additional installation effort

Operation with external temperature controller

PSG-Plus high quality parallel heating cable

Max. 200°C control temperature

Every 0,6m shortenable for assembly on-site (video tutorial) or ready-made ex works

Robust design with thick-walled extruded, flame resistant, extremely weather resistant PVC, PE or TPU outer jacket

Interchangeable sample line as option
Application
The controlled heated sample lines series PSG Plus Extruded Hybrid are used for continuous extractive gas analysis. They serve primarily for transport of the humid sample gas stream from sample point to analyzer house. The holding temperature of the line thereby has to be above water vapour resp. acid dew point of the sample gas. In this way uncontrolled condensation of water vapour on the way to the analyzer and therefore washing out of gas components in condensate is prevented. Additionally, all electrical and pneumatic lines for operation of a heated gas sampling probe can be integrated. These are back purge and test gas lines enabling pre-heated gas feeding thus preventing cooling down resp. condensation in the probe as well as electrical supply and temperature sensor lines. This way the complete installation work for all lines is eliminated and the probe can be operated and controlled directly from the analyzer house.
Technology
The robust lines with thick-walled extruded flame resistant and extremely weather resistant TPU, PE or PVC outer jacket are equipped with high quality PSG-Plus parallel heating cable. Insulation is done with a thermal or glass fibre fleece. PTFE, PFA, stainless steel or special alloy tubes as internal line and also interchangeable internal tubes are available.
Functions
The lines are available up to 300m at a stretch e.g. on cable drum and then can be adapted on-site and shortened every 0,6m. Furthermore, they are available ready for operation ex works. Control of the lines to max. 200°C is done by an external temperature controller (e.g. Controller ST 49 or Controller DC-10) via the integrated temperature sensor to max. 200°C.
You may also be interested in
Self regulating Sample Line up to 120°C holding temperature, cut-to-length with PTFE / PFA or stainless steel tubes and small bending radius